Stewardship Spot: Taskey Program
Taskey Task Manager
Use this program to help you be a good steward of time. Keep track of events, etc. We use this for our daily tasks, gardening information, food stock catalog and many other items. This program is written in VB.net 2010 and is intended to help with task management. There is no documentation for this program yet but hopefully it is self explanatory. The program requires the Microsoft .Net framework 4, the link is provided below. If you try the program and like it please let us know. Any feedback is welcome, enjoy!
Send us a note if you are interested in the Taskey Program and well tell you where you can download it for free.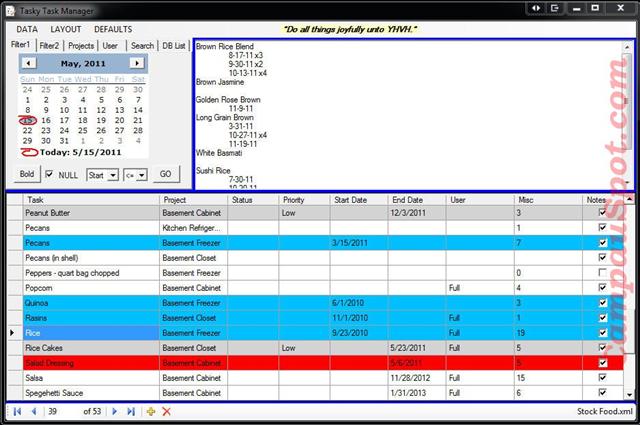 ---
Stewardship Spot Links
Resources Links to various stewardship resources
GMOs Stewardship In Food link resources
Taskey Program. A free program for windows operating system that I created which we use to help us be better stewards and keep track of tasks and other things.
Stewardship 101 A program I created and we use to help us keep track of things and be a better steward. For Android devices, available in a free lite version and a full version.
Stewardship Presentation Watch our full presentation on YouTube of "Life Stewardship From A Biblical Perspective." (Learning ways to take care of God's planet one choice at a time.)
Stewardship PowerPoint PDF Slides from the presentation.